The wait is nearly over!
"I nearly wet myself when i heard the news" - Sally (Puyallup WA)
MONDAY September 23: MLR 2020 is released!
Be sure to JOIN BELOW to get 'beat the queue' offers on that FIRST GAME
Congratulations to Seattle seawolves
Successfully defending the Shield to retain their title of Major League Rugby Champions for a 2nd successive year.
Traveling fans with the Rugby100Club were treated to a front row seat to witness the amazing scenes as the Seawolves prevailed and lifted the Shield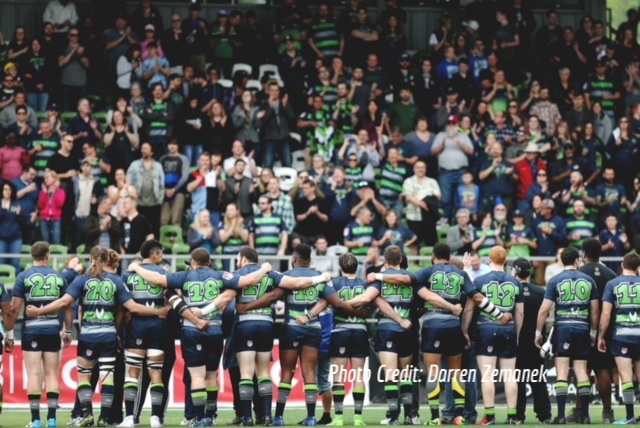 "Imagine if we could bottle the atmosphere at Starfire Stadium and unleash that at away games for the Seawolves"
Tony Ridnell, ex-USA Eagles player, Seattle resident and Owner of TRInternational.
GROUP FAN EXPERIENCES WITH THE VIP TREATMENT
Exclusive packages for you to join like minded fans and celebrate key away games together, in support of the Seattle Seawolves.
We host rugby fans at selected Seattle Seawolves away games in Major League Rugby, offering an immersive 'Rugby' experience.
Want to join us?
Simply register your email address with us here, and you'll soon be making new friends and creating shared memories that will last a lifetime!
#FollowTheFlag
Travel: Support: ExperiencE
To take groups of rugby fans to key Seattle Seawolves away games in Major League Rugby, in 2020.
Deliver an amazing fan group experience.
Develop and grow the support for Major League Rugby in North America.
An EXCLUSIVE fan experience, together, as part of the Rugby100Club:
TOGETHER we stay - in a fantastic hotel with a drinks welcome reception.
TOGETHER we travel - from the hotel to the Stadium, in the RUGBY BUS.
TOGETHER we sit - with inclusive match tickets for the game, as part of the '100'.
TOGETHER we celebrate - and enjoy a 'Back Stage Pass' to meet and greet with selected players post match.
TOGETHER WE HUNT: Let's GO SEATTLE!
Your own pin badge and VIP Credentials…
As a Rugby100Club member you will receive your very own pin badge and credentials to enjoy an enhanced VIP home game experience with FREE entry to the post match VIP party.